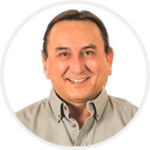 Welcome to RGV CompuTech, your trusted technology partner for small businesses in the Rio Grande Valley. We understand the critical role that technology plays in today's competitive business landscape. That's why we are dedicated to providing reliable and efficient IT solutions to help your business stay ahead of the curve and avoid costly downtime.
 With over 20 years of experience in the industry, RGV CompuTech has become a leading provider of comprehensive IT services in the region. We specialize in delivering proactive network monitoring, data protection, network security, and help desk support specifically designed for local small businesses within a 50-mile radius of Alamo, TX. We understand the unique needs and challenges faced by small businesses in the area, and our mission is to empower you with the right technology solutions to thrive in the digital age.
At RGV CompuTech, we take a proactive approach to IT support. Unlike other IT firms that merely fix problems as they arise, we go above and beyond to provide proactive solutions that enhance your workflow, improve collaboration among your staff, and safeguard your data and networks. Our team of experienced technicians works tirelessly to monitor your network, identify potential issues, and address them before they impact your business operations. By taking a proactive approach, we help you avoid costly downtime and ensure that your systems are always up and running smoothly.
We understand that every business is unique, and we take the time to listen to your specific needs and goals. Our dedicated team of IT professionals works closely with you to develop tailored IT solutions that align with your business objectives and budgetary constraints. Whether you need help with managing your IT infrastructure, data backup and recovery, implementing VoIP services, enhancing cybersecurity, or optimizing your network cabling, we have the expertise and resources to meet your needs.
Our goal is to empower your business with the right technology tools and solutions. We believe that technology should be an enabler, not a hindrance. That's why we strive to provide you with reliable, secure, and efficient IT solutions that allow you to focus on what you do best – running your business. We understand the challenges faced by small businesses and the importance of staying up-to-date with the latest technology trends. That's why we continually invest in our knowledge and expertise to ensure that we can offer you cutting-edge solutions that drive your business forward.
When you choose RGV CompuTech as your technology partner, you can rest easy knowing that we have your back. We pride ourselves on our responsiveness and dedication to customer service. We understand that IT issues can arise at any time, and that's why we offer both remote and on-site support to address your needs promptly. Our team of friendly and knowledgeable technicians is always available to provide assistance and answer any questions you may have.
We are so confident in the quality of our services that we offer a 30-day money-back guarantee with our proactive support plans. We stand behind the work we do and our commitment to delivering exceptional service. Our goal is to build long-lasting partnerships with our clients based on trust, reliability, and mutual success.
At RGV CompuTech, we have built a strong reputation for our expertise in a wide range of IT services. Our areas of expertise encompass managed IT services, data backup and recovery, VoIP services, cybersecurity services, cabling services, and comprehensive computer solutions. We understand that technology is constantly evolving, and we stay at the forefront of industry trends to ensure that we can offer you the most advanced solutions available.
By partnering with RGV CompuTech, you gain access to a team of dedicated professionals who are committed to your success. We are passionate about helping small businesses in the Rio Grande Valley leverage technology to drive growth, increase efficiency, and enhance their competitive edge. Our mission is to provide you with the right IT solutions that enable you to succeed!
FREE Executive Report
You depend on your computer network to run your small business or medical clinic. Find out what your computer system's strengths and weaknesses are when it comes to protecting and preserving your company's critical data. This is one report you don't want to overlook, and it's free!